Even here in Door County, many of us either skip breakfast or we grab 'n' go – a bagel, donut or a muffin, washed down with a hit of caffeine.
Or, if we have the time, we may swing through a fast food restaurant. If you're long overdue for a really great breakfast, you should join the staff and volunteers of The Ridges Sanctuary for the fourth annual "Great Waffle Breakfast" at the Baileys Harbor Town Hall on Saturday, February 4, from 9 to 11 am. Enjoy waffles of all shapes and sizes, topped with Door County maple syrup, homemade cherry topping and whipped cream. Donations of $6 for adults and $3 for children under 12 will be accepted at the door.
All those who attend the Breakfast will receive a free pass to the Ridges which can be used to enjoy the winter wonders of the Sanctuary from the trails and boardwalk.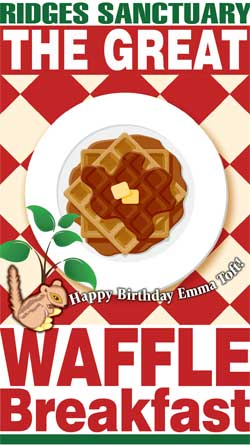 Now celebrating its 75th anniversary, The Ridges Sanctuary was founded by a group of visionaries who recognized the extraordinary biodiversity of the Baileys Harbor "bog." Emma Toft was one of the most vocal and persistent of those visionaries and the Great Waffle Breakfast celebrates the 121st anniversary of her birth. Thanks to the work of "Miss Emma," the other founders and all its members since 1937, the Sanctuary today preserves over 1,600 acres in Baileys Harbor and near Clark Lake.
The Ridges Sanctuary, a non-profit nature preserve, is located just north of Baileys Harbor on County Highway Q. Trails are open to the public year round for a small fee (members may hike at no charge). Naturalist-led snowshoe hikes in the Sanctuary are scheduled on Fridays and Saturdays at 1 PM through February. For further information on any Ridges Sanctuary programs, call 920.839.2802, or visit the Ridges' Website at RidgesSanctuary.org.