The Alcohol and Tobacco Tax and Trade Bureau (TTB) establishes the approximately 3,800 square-mile "Wisconsin Ledge AVA," a viticultural area in northeast Wisconsin.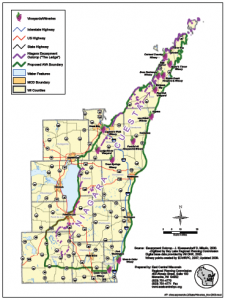 The TTB designates viticultural areas to allow vintners to better describe the origin of their wines and to allow consumers to better identify wines they may purchase. After an arduous seven-year preparation, Steven DeBaker's petition to establish the Wisconsin Ledge Viticultural Area that encompasses approximately 3,800 square-miles including Door, Kewaunee, Manitowoc, Sheboygan, Ozaukee, Washington, Dodge, Fond du Lac, Calumet, Outagamie and Brown counties has finally been approved. The 44-square-mile Lake Wisconsin AVA is the only other official viticultural area completely within the state
Steve DeBaker owns and operates Trout Springs Winery in Greenleaf with his wife Andrea. He told Wines & Vines, a wine industry news service, that 14 or 15 of Wisconsin's 65 wineries (per WinesVinesDATA) lie within the Ledge, with 300-400 vineyard acres.
"It gives a stamp of legitimacy to the grape-growing region itself," DeBaker says. "As of April 23, we can legally redo our labels and also put on them that they are estate grown."
DeBaker says Wisconsin Ledge is the 203rd viticultural area in the country and the 12th-largest in acreage.