The Door County Master Gardeners Association (DCMGA) announces judges for this year's Pesto Festo competition, part of their upcoming and free Taste of the Garden Door celebration taking place at the UW Peninsular Research Station north of Sturgeon Bay from 1 – 4 pm on Saturday, September 7.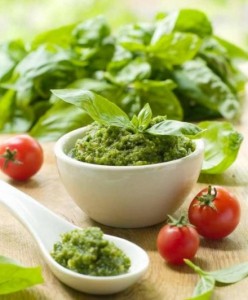 Each year, a bountiful harvest of tasty vegetables and herbs provides a delicious adventure for visitors to the Garden Door, the DCMGA's educational display garden located at the UW Research Station, 4312 Hwy. 42, Sturgeon Bay. The garden is free and open to the public daily from dawn 'til dusk. The annual Taste of the Garden Door event has gained quite a reputation as the show to attend for tasting and collecting original recipes and ideas to use in your own kitchen.
The Pesto Festo is filled with fun and delicious taste treats, just one of several learning events taking place on September 7 at the Garden Door that includes:
Lee Somerville (DCMGA volunteer & author) selling and signing "Vintage Wisconsin Gardens: A History of Home Gardening", her popular and informative book.
Chriss Daubner (DCMGA volunteer) demonstrating how to plant a picture frame garden (frames will be available for purchase). Chriss will also share information on the display of miniature gardens.
Mary Gehm (DCMGA volunteer and owner of Door County Botanicals) will be on hand to instruct in the making of botanical images.
Are you ready to share your secret recipe for the very best pesto ever tasted? Door County Master Gardener volunteers are looking for the most inventive and tastiest pesto recipes of the year. All Pesto Festo entries are taste-tested by a panel of judges with most discriminating palates.
This year's Pesto Festo judges include:
Leslie Gast
With an early interest in baking Christmas cookies with Grandma Ebert, Leslie has always felt comfortable in the kitchen. Her days are spent in the business banking world at Baylake Bank as she analyzes credit decisions and encourages small businesses to prosper. Recently, nights and weekends are spent on a new endeavor as co-publisher of "Edible Door", a local foodie publication. As a proponent of the "farm to fork" movement, Leslie's recent culinary experiments have trended toward healthful, vegetarian choices, although heritage cookies will always have a soft (and sweet) place in her heart. To broaden her on-going interest and talent in food preparation, Leslie has taken classes from experienced and talented Door County chefs…among them, Savory Spoon's Janice Thomas, who just happens to be a member of our panel of judges this year!
Todd Trimberger
In the business of "welcoming" as Executive Director of the Sturgeon Bay Visitor's Center, Todd Trimberger seeks out restaurants featuring local cuisine, often found "off the beaten path." Ask him about some of his adventures! His palate leans toward fresh seasonal ingredients prepared with spices which complement local flavors. You may occasionally spot Todd at Bliss, his home decor store on Jefferson Street in Sturgeon Bay, which features "eclectic adornments for your lifestyle."
Janice Thomas
A Chef with over twenty years experience in the food industry, Janice Thomas is also owner of her own catering company for fourteen years. She has been teaching cooking classes for many years in Arizona, Oregon and Wisconsin. Techniques learned at the renowned Cordon Bleu in Paris, as well as her studies with well-respected chefs in France, Italy, China and Mexico, have developed Janice's eclectic approach to creative food preparation and presentation. "Combining the flavors of many cultures results in an explosion of taste delights," she adds. Janice currently keeps busy at her Savory Spoon Cooking School in Ellison Bay.
For complete information on all of the Taste of the Garden Door and the Door County Master Gardeners Association activities as well as the winning recipes, visit www.dcmga.org.