On Saturday, October 5 Schopf's Dairy View Country Store will launch the 1st Annual Pink Pumpkin Fest with the help of a crew of Pirates!
Carlsville's infamous Pirates in the Harbour will be grilling food in another of their Parrot Head Club's "Cheeseburgers in Paradise" fundraising cookouts. The Pirates in the Harbour continue to "party with a purpose" to raise money for local charitable organizations. Since the club was sanctioned as a chapter of Parrot Heads in Paradise, Inc. in October 2009, they have helped to raise more $10,000. They will be accompanied by Door County's Modern Day Drifters playing country music from 11-3 pm.
The 1st Annual Pink Pumpkin Fest is a family event with pony rides, face-painting, tractor rides and a chance to win cash by guessing the weight of the Great Pumpkin in a 50/50 raffle. Here's an opportunity to help in the fight against cancer and take home one of the very first Door County crop of natural, pink-colored pumpkins.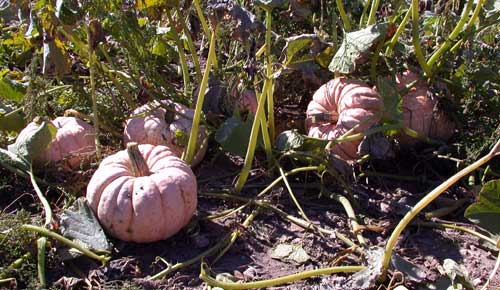 "This spring we ordered 200 special pink seeds from the Pink Pumpkin Patch Foundation," says Dennis Schopf. "We planted them along with the traditional varieties of orange pumpkins and gourds in our own 4-acre patch and sure enough, they're pink!"
The Pink Pumpkin Patch Foundation was created in 2012 to aid in the fight against breast cancer. The foundation oversees the donations, making sure that the funds go directly to those reputable organizations with the highest percentage of dollars spent on actual research. They aim to be very transparent, with a board that volunteers its' time, no paid employees and low administrative costs.
"We joined with America's pumpkin growers in a commitment to give 100% percent of the proceeds from every pink pumpkin sold this year to organizations fighting against cancer," explains Roxanne Schopf.
The petting zoo and 30-acre Corn Maze with 3 games spanning more than 10 miles of trails will also be open as usual from 10 am to 6 pm. Spend as much time and effort as you like, from just the beginner's level to solving all 4 maze challenges – a regular fall feature at the Schopf Family Farm and Country Store, located on County Road I, just east of Carlsville.
Find out more about the annual corn maze, Dairy View's homemade ice cream and pizza, as well as their educational working dairy tours on-line at www.DairyView.com or by calling 920.743.9779.