On September 14, when you say "yes" to purchasing an originally designed paper dress, you are also saying "yes" to helping those in need in Door County.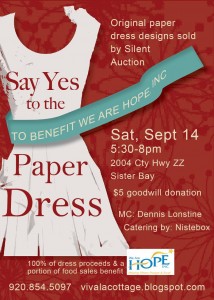 Former local retail shop owners, Debbie Frank and Angie McMahon are holding a "Say Yes to the Paper Dress" benefit for We are HOPE, Inc., of Sturgeon Bay, to take place within Angie's decorated barn on Saturday, September 14 from 5:30 – 8 pm at 2004 County Highway ZZ, Sister Bay. A $5 goodwill donation per person provides entrance to the event.
The pair asked 20 of Door County's notably creative women to each make a paper dress of their choosing for silent auction. The dresses vary from tabletop to life size sculpture, framed renderings, and even wearable art. All of the proceeds from the sale of the dresses will benefit We are HOPE (formerly WEP).
Radio broadcaster, Dennis Lonstine, will emcee the unveiling of the dresses to start the bidding at 6:30 pm. Nistebox, of Sturgeon Bay, will cater the benefit with made from scratch offerings out of their vintage décor food truck. The caterer is also donating funds from their sales.
We Are HOPE connects clients, both men and women, with local employment-aid organizations and home energy conservation programs. It also provides transportation services to low-income clients through its Door County Transportation Options Program.
According to Angie, the idea for the fundraiser was born over a desire to thank the community that supported Debbie and her businesses.
"Since closing our shops, Debbie and I have wanted to do more to give back to the community," Angie says. "When I researched all the wonderful things they do to help people get back on their feet, I knew this would be where we would send the funds raised at the event."
For more information about the Say Yes to the Dress Benefit, call 920.854.5724. Visit RenewHopeInc.org for more information about We Are HOPE, Inc..
Summary
Event
​
Say Yes to the Paper Dress
Location
​
We Are HOPE, Inc.

,

2004 County Highway ZZ

,

Sister Bay

,

WI
Starting on
Ending on