Sturgeon Bay's former Ladder House bar and restaurant, located in the historic fire station building on South Third Avenue gets a new lease on life.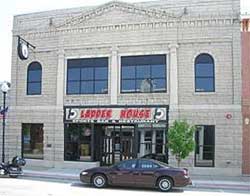 The Sturgeon Bay City Council approved a $200,000 loan that will permit a local management team comprised of Ken Glasheen, Paul Salm and Steve Sauter to buy the property.
Under terms of the loan, the group must add $50,000 in equity and obtain additional private financing. So far, no additional plans or a projected re-opening date have been announced.